Corsicana couple keeps culinary traditions alive | News
5 min read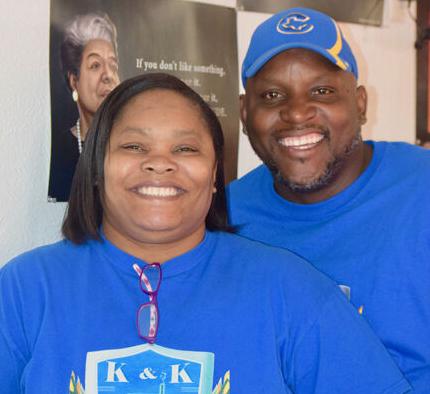 Little did Kamar and Kisha Chambers know that when they began helping manage the family restaurant, Clyde's Bar-B-Que, back in 2009 they would end up rubbing elbows with one of the country's most well-known barbecue pit-masters, Kevin Bludso, and have an article about them in Texas Monthly magazine.
Business has definitely picked up since Texas Monthly featured an article about K&K Bar-B-Que on its website in early February.
Bludso, who has made appearances on The American Barbecue Showdown, Fire Masters, Bar Rescue, and Diners, Drive-Ins and Dives, and owns several restaurants in California, did his own interview with writer Daniel Vaughn at K&K. Two days later, the editor called and said,"Let's talk about K&K Bar-B-Que."
Kamar and Kisha said they are grateful for Bludso's words of encouragement, shoutouts on Facebook and calling attention to their restaurant.
Interestingly enough, Bludso's roots in barbecue come from spending childhood summers in Corsicana helping his aunt, Willie Mae Fields, in her "semi-legal" barbecue business, Little Rascals. There, in an old gas station on Seventh Avenue, she taught young Bludso how to smoke brisket. He has received accolades from The Steve Harvey show and Bludso's BBQ is now known as "L.A.'s best known barbecue joint."
Kamar and Kisha are continuing a long legacy of local but specifically, Black-owned barbecue in the same building as Queen Bee Barbecue, which set the standard for many generations of barbecue fans.
Just how did high school sweethearts Kumar and Kisha end up smoking brisket? It was a long road, 12 years and a steep learning curve.
Back in 2009, Kamar and Kisha began helping at Clyde's BBQ, managing the restaurant for Kumar's uncle and dad. Shortly after that, his uncle and father decided this wasn't for them and bowed out.
Kamar and Kisha quickly learned about running a business, how to smoke brisket, and restaurant management, all while raising a family. Things were going well when three years later, Kisha suffered a heart attack.
"I'd rather have her than the business," Kamar said, and so the doors closed in 2013. Kamar launched a career in the insurance industry and Kisha raised their children.
"God works in mysterious ways" he said.
After some time away from the restaurant, he began to realize he missed it. He wanted to run a business but didn't want an actual building.
Kisha saw that this was where his heart was and supported him "1,000%."
"Let's make this happen,"she told him.
They bought a food trailer with a barbecue pit, some tables, and a tent and set up around town.
They expressed much gratitude to Owen Hardware owner Wayne Owen, who allowed them to park on his lot on Commerce Street in downtown, where they successfully ran their pop-up barbecue stand for over a year.
"God works in mysterious ways… I told you," Kumar repeated.
Unbelievably, in 2020, the very same building where Clyde's Bar-B-Que once stood was available again and everything just fell into place.
"It was like coming home," they said.
I asked how had the COVID-19 pandemic affected their ability to open a business. They felt blessed that they had been gifted with the ability to do something everyone needs.
"It was great that we were able to feed people, even through COVID."
The deep freeze from a couple weeks back presented some unique problems. Although they were able to find some items needed for their menu, Kamar and Kisha decided to remain closed so the community could find what they needed to feed their own families instead of buying up supplies for the restaurant.
"When we re-opened, it was great!" Kamar said. "The community really let us know they missed us. We were completely sold out by 3 p.m. In my opinion, that's all anyone can ask for."
But, let's get to the meat of it – the menu. Eight months ago, they moved into their current location, which, as it turns out, is the same building where it all began in 2009.
They began with a modest menu, serving smoked brisket, ribs, sandwiches, sausage and some sides. They are now expanding by adding chicken wings cooked in their own special seasoning.
"No pun intended, but they are flying out of here," Kamar joked.
They tried "Fish Fry Fridays" but were selling out of their fried catfish long before closing time. So they added it to Thursday's menu, and continued to sell out. Fried catfish is now a permanent addition to the daily menu and has been quite popular.
One of the more popular items, the loaded baked potato, is truly loaded with chopped brisket, cheese, butter, sour cream, and barbecue sauce. Come hungry if you plan on ordering it!
The "Bull In the Box" pays homage to the original Queen Bee where it was featured on its menu. It includes beans, brisket, barbecue sauce, pickles, onions and jalapeños if you want, all in one box.
Warning: Ordering off-menu at Corsicana's K&K Bar-B-Que could result in becoming a part of local history.
"Steve-O Fries" began when Pastor Steve Hayes of Grace Community Church came in and asked for loaded fries. "The Pastor" sandwich was born when their pastor, Ricky Walter of Lifeline Fellowship Family Church in Corsicana, came in requesting a sandwich with brisket and a sliced hot link on a bun.
"Mack Chicken Nachos" is named after Kamar's cousin, April Mack. Recently, Captain Justin Underwood of the Corsicana Fire Department was in and had a special request – mac and cheese piled with baked beans, chopped brisket, sauce and sour cream.
Kisha had never made that before, but she worked with the customer to fix something special for him, and the "Mac Underwood" was discovered. It will be appearing on the menu soon.
"I love it. It gives the community the opportunity to be a part of what's going on here, to be a part of our history," Kamar said. "It's been a great journey. We've been appreciative of the good times, the hard times, the slow times, we've appreciated it all. We're not perfect but it's good. It feels good to be where we're headed. We love our customers and we love what we do."
To try some great barbecue for yourself, stop by K&K Bar-B-Que at 1801 Martin Luther King Jr. Blvd. in Corsicana. It is open 11 a.m. to 6 p.m., Tuesday through Saturday, but don't wait to come too close to closing time if you're looking for some fried catfish or ribs, which sell out quick.